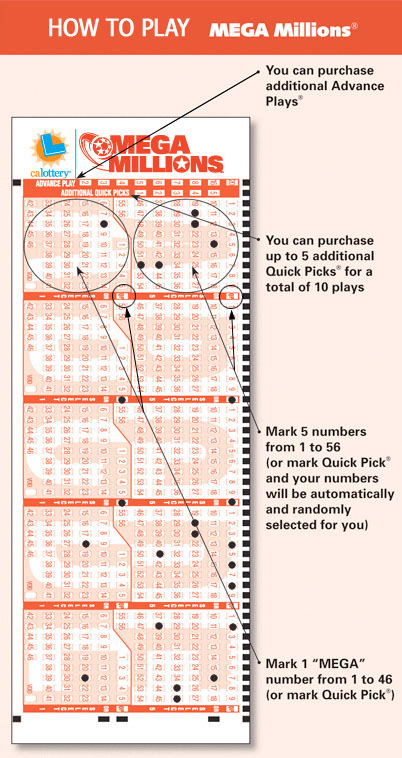 How to Fill out a Mega Millions Form:
Mega Millions tickets cost $1.00 per play. Players may pick six numbers from two separate pools of numbers - five different numbers from 1 to 75 and one number from 1 to 15 - or select Easy Pick. You win the jackpot by matching all six winning numbers in a drawing.
The jackpots start at $15 million and grow by a minimum of $5 million per draw each time the jackpot rolls. Above diagram shows how to fill out a sample MegaMillions playslip. (Note that the diagram shows an old form that has been recently replaced: old MegaMillions form was designed for a pick of 5 out of 56 numbers, and one Mega Ball from the range 1 to 46). Selected numbers should be marked with clearly visible ink. Filled out playslip will be scanned by a Lotto Vending Machine. If no errors are detected on a filled out playslip, the Lotto Machine will print out your Mega Millions Lotto ticket with your numbers on it (see printed ticket below). That printed ticket is proof of your participation in a coming draw. Write your name on the back of the ticket, sign it and wait for the draw...
"QP" = "Quick Pick":
If "QP" box is marked on the playslip a Lotto Vending Machine will automatically select the numbers for you.
"Megaplier":
This add-on feature introduced by some states to increase (multiply) the size of winning prizes.
"Advance Play":
Players may choose to play their favorite numbers in future drawings by selecting correspoding number of "Advance Plays". Players have the option of playing for two (2), three (3), four (4), five (5), six (6), seven (7), eight (8), sixteen (16) or twenty (20) consecutive draws by marking the appropriate box/boxes.
And last, but surely not least: do you think you have a winning number combination in mind, or are you following any system for picking winning numbers? Well, if not -- go ahead and try numbers from "Alice" and "Simone" -- they are statistical algorithms that we are developing. They focus on detecting long term and short term number patterns. The project is a work in progress, but there already is some promise. You will find those, and series of random numbers on the right side panel of our pages.
Good Luck!
Below is an example of a Mega Millions ticket purchased in California.